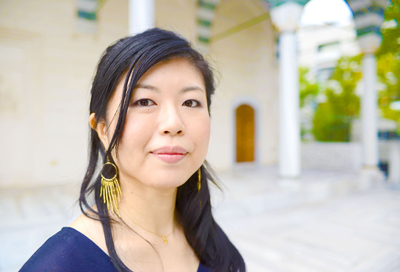 Photo by Yuji Morita
Misako Aono Illustrator/Comic writer/Writer
Misako Aono is born in Kofu, Yamanashi Prefecture of Japan in 1970. She grew up in Saitama Prefecture. From age of 6 to 7, she devoted herself to create original picture books, magazines, comics, and newspapers. After graduated from Graphic design major at Joshibi Junior College of Art and Design, she worked as a graphic designer for three years. She started her career as a freelance illustrator from 1996.
Since then, she has been contributing her illustrations and essays at various media like magazines, books, web, advertisement, fashion and more. She held various exhibitions and group exhibitions in both Japan and overseas. Her specialty is femininity, embodiment and associated topics. She has been creating her art works emphasizing feminine beauty inspired by pin up arts, French movies, gay culture that she was encountered when she was teenagers.
"The New Wave of Japanese Illustration" (Norma Editrial/Spain/2011)
She appeared as one of 100 Japanese artists in "The New Wave of Japanese Illustration" which is published and sold in Spain, England, France and Italy.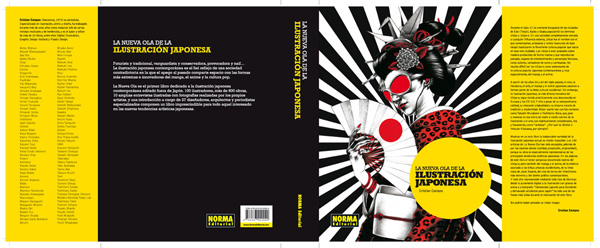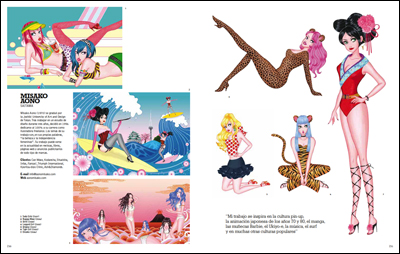 ---
000
Clients
Asahi News Paper/ASH&DIAMONDS/Gakken/KADOKAWA/Gijutsu Hyoronsha/CAN WAVE/Kyoritsu Biyo Clinic/Graphsha/Kodansha/Kobunsha/ZAPPALLAS/SHISEIDO/Syogakukan/Shueisha/Shufunotomosha/Shinchosha/TBC/Daiwa publish/Tatsumi publish/DHC/Toppan/Triumph international Japan/Nihon Bungeisha/Hakuhodo DY/Fantas!/Fusosha/Magazine House/MYNAVI/Yomiuri New Paper/Wailea publish/Wacoal co. ltd
---
000
Exhibition
"Street Art Project" Ukradena Gallery, Czech Republic/2012
"Spiky Heaven" CoCoLo Cafe, Shinjuku Tokyo/2007
"Misako Aono Show" Bar 556, Roppongi Tokyo/2005
"Daydream" Casa Nuova Gallery Ohtemachi Tokyo/2003
"Girl's Talk" Store Bold, Meguro Tokyo2002
"The show commemoration of publishing/The making of Greetingcard with a PC" Gallery le deco, Shibuya Tokyo/2000 (2 person show)
"Framers2″ ABC book store, Aoyama Tokyo/2000 (Group show)
"Framers" Living Design Gallery, Shinjuku Tokyo/2000 (Group show)
"Pin up Room" Kaeru Cafe, Harajuku Tokyo/1999
"Tokyo Street Pop" Boylan Studios, New York USA/1998 (Group show)